Restorative Dentistry San Francisco, CA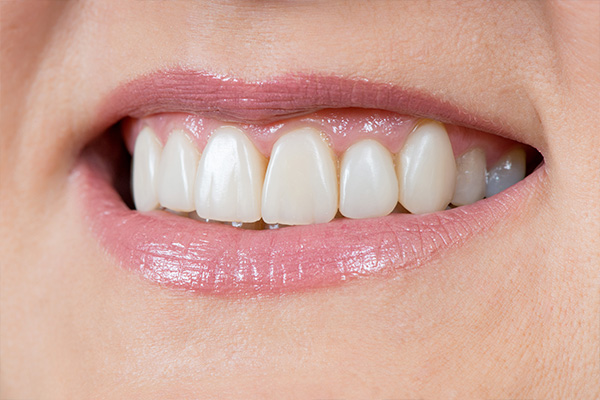 Restore your mouth to its full form and function.
When a tooth is lost, nothing is ever the same. The entire balance of a healthy mouth is lost: the bite goes off, opposing teeth overgrow in unpredictable directions, facial appearance ages.
Restorative dentistry is all about bringing mouths back into use. How? Some of the restorative procedures are:

Cavity Fillings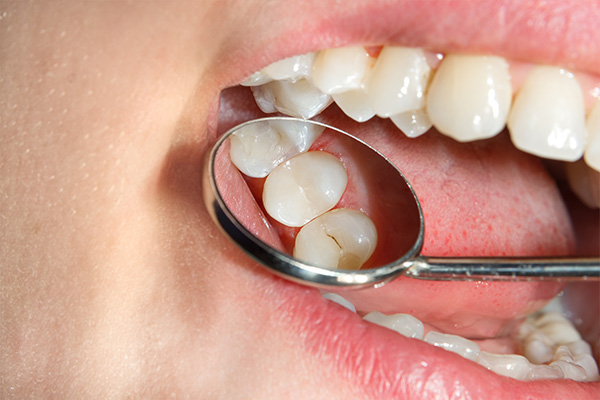 Protect your teeth against further decay.
When cavities from decay begin to form in your teeth it is important that they are treated with fillings as soon as possible. Untreated cavities compromise the strength of your teeth, making chips and severe breaks much more likely. Additionally, since the surface of the tooth has been penetrated by decay, cavities can lead to severe infections to the interior of your tooth, which eventually may lead to a root canal. There are several options available for treating cavities, including:
Composite Fillings
One option to treat a cavity is a composite resin filling. This method is preferred by many because the color of the filling can be matched to the natural shade of the tooth, making them less visible. They provide significant strength to the restoration. At one time it was thought they were best used on small to mid-sized cavities that endure moderate chewing pressure. But today there are new composite materials that provide strong reliable restorative qualities even on molars. Also, there is less drilling required so more of the natural tooth can be preserved.

Amalgam Fillings
The most traditional, proven method for treating a cavity is by using an amalgam (silver-mercury based) filling. Although there have been some health concerns due to the toxicity of mercury there has been no conclusive evidence that amalgams pose any threat when used in dentistry. Today they continue to be popular for durability and they are the best choice for larger cavities that must endure the stresses of heavy chewing.
Ionomer Fillings
Ionomer fillings are made from glass particles mixed with acrylic acids. They are tooth-colored to match your natural teeth. Ionomer fillings are fragile, which is why they are only implemented on very small cavities or on tooth roots.

Crowns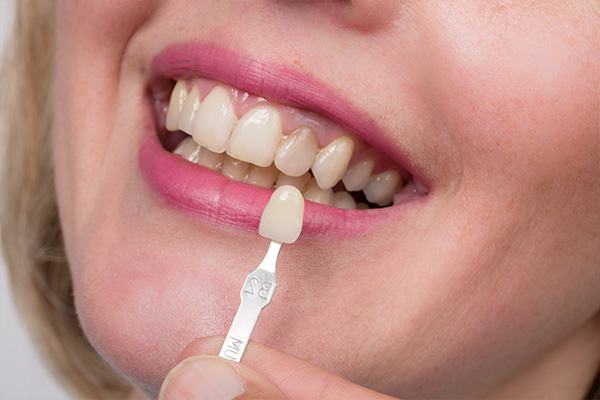 Crowns are used to help restore your teeth and mouth.
A crown is a dental restoration that covers, or "caps" a tooth to restore it to its normal shape and size. A crown can strengthen a tooth that has had numerous fillings, is cracked or has broken. Sometimes a crown is the best solution to improve the appearance of a tooth.
How is a crown placed?
To prepare the tooth for a crown, it is prepared so the crown can fit over it. An impression of teeth and gums is made and sent off to the laboratory for crown fabrication. A temporary crown is fitted over the tooth until the new replacement crown is made. At a second visit, the temporary crown is removed then the new crown is fitted onto the tooth and cemented.

Will the crown look natural?
Yes. A crown that looks like a natural tooth is the goal. To achieve a natural look, a number of factors are considered: the color, bite, shape, and length of natural teeth. Anyone of these factors alone can affect the appearance.
If you have a certain cosmetic look in mind for your crown, discuss it with us at your initial visit. When the procedure is complete, your teeth will not only be stronger, but they may be more attractive.
Why crowns and not porcelain veneers?
Crowns require more tooth structure removal as they cover more of the whole tooth than porcelain veneers. Crowns are customarily indicated for teeth that have sustained significant loss of structure. Crowns may be placed on natural teeth or on dental implants.
How should I take care of my crowns?
To prevent damaging or fracturing the crowns, avoid chewing hard foods, ice or other hard objects. Tooth grinding can be a consideration as to what material the crown is made. Besides visiting your dentist and brushing twice a day, cleaning between your teeth is vital with crowns. Floss or other dental cleaners (specially shaped brushes or picks) are important tools to remove plaque from the crown area where the gum meets the tooth. Plaque in that area can cause dental decay and gum disease at the base of the crown.
Dental Implants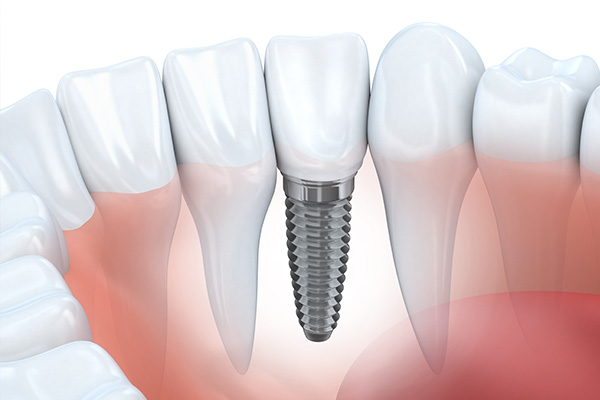 A permanent solution for missing one or more teeth.
Once teeth are missing from the jawbone—whether one or many; whether from accident or disease—something very important is missing as well. That's tooth stability, and that's because once one or more teeth are removed, the jawbone that previously anchored the roots begins to dissolve. Dental researchers worked for years to find ways to keep bone from shrinking. Now we're proud to offer a solution that prevents bone loss while permitting durable, fixed, permanent restorations.
They're dental implants. And they're the next best tooth replacement option to the real thing because they're rooted in the bone just like your original teeth. The procedure involves setting one or more implant anchors into the jawbone. These roots, made of titanium, are strong, non-toxic, and biologically compatible with the mouth.
The key to a successful implant is something we call osseointegration: the bone actually grows into the implant itself. Once this bond stabilizes we cap the root with a natural-appearing replacement tooth. Or multiple replacement teeth. Or use it as an anchor to support a crown or bridge—even a denture! Implants aren't right for everyone. You need sufficient bone in your jaw to support them and a willingness to take good care of yourself during treatment.
But the benefits of implants, from restored chewing and speaking efficiency to improved nutrition, are undeniable.

What can dental implants do?
Replace one or more teeth without affecting bordering teeth.
Support a bridge and eliminate the need for a partial denture.
Provide support for a denture, making it more secure and comfortable.
All Restorative Services