Meet Our Doctor & Team
Your local San Francisco dentist, Dr. Nonna Volfson.
Take a couple of minutes to get acquainted with the caring and compassionate team at Trusted Dental in San Francisco by reading each of their biographies. You'll learn a little bit about our team members, including their education, work experience, and professional associations. We truly look forward to meeting you and having the opportunity to serve you and your family!
Nonna Volfson, DDS
California Dental License: #54403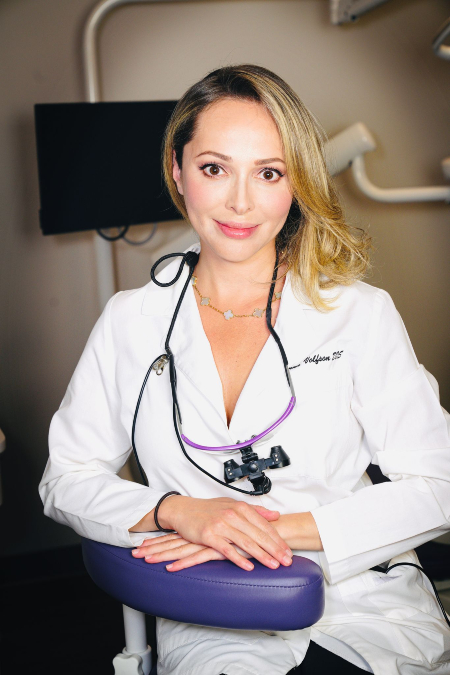 Dr. Nonna Volfson takes pride in delivering the most comprehensive and personal dental care for patients throughout the Bay Area. You can count on her to provide the treatment you need in a relaxed and stress-free environment! She enjoys meeting new patients and getting to know them on a personal level, all while helping improve their health and achieve their dental goals. When you visit Trusted Dental, she is always happy to answer your questions and walk you through each step of the treatment process.
Dr. Volfson grew up in San Francisco and continues to live there today. She received her Bachelor of Science in Biotechnology and graduated with honors from the University of California, Davis (1997-2001). She then went on to attend the University of California, San Francisco School of Dentistry (2001-2006), where she received her Doctorate of Dental Surgery.
Throughout her career, she has worked at multiple practices, specializing in general, cosmetic, surgical, and preventative care. She has focused on developing her skills in delivering the latest technological advancements in dental care, with a focus on personal attention to her patients and specialized treatments such as implantology, endodontics, and cosmetics. In the course of these efforts, she has also completed advanced training in Implantology at the renowned Misch International Implant Institute (2010).
The inspiration to open Trusted Dental was Dr. Volfson's passion for delivering a full-service, personalized, and professional experience, as well as the most advanced dental care available today.
Associations & Memberships
Dr. Volfson is an active member of the American Dental Association (ADA) and the California Dental Association (CDA).

Our Team
Trusted Dental is able to provide the highest quality care thanks to an incredible team of dedicated, friendly, and knowledgeable individuals. Whether it is our hygienists or assistants, office managers or administrators, each team member helps our practice run smoothly and works with a shared commitment to our patient's oral health, comfort, and overall well-being.